FAME Review: Danny Click – Life is a Good Place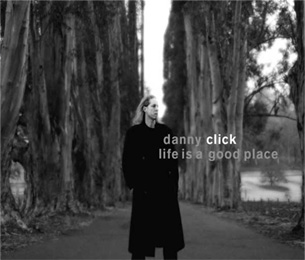 Life is a Good Place
Danny Click
Dogstar Records – DS101808
Available from iTunes.
A review written for the Folk & Acoustic Music Exchange
by Mark S. Tucker
(progdawg@hotmail.com).
The cover photo, of Danny Click in a b&w snap amid a promenade of trees lining a country back road, first put me in mind of "Oh, cool, a folker. I can use a bit of mellow after all the metal I've been listening to lately!". The inside shot of a pooch at the ocean firmed that up, as did the two shots of Click strumming on a couple of gee-tars. Ah, but that wasn't really the whole story, as this guy blends what is definitely a fundament of folk with a righteous country-rock styling that recalls Jackson Browne, David Lindley, Bob Meighan, Tom Petty, Josh Rouse, and others in a smooth mode dreamily punctuated by slide guitar floating like a fat honey-fed bee in a late afternoon sky of deepening blue.
Click also occasionally adopts a narrative style of singing in songs like Blue Skies that further blurs the line between sprechestimme and the melodic encanting one expects. In that elongated (5:58) tune, he unleashes that slide to sing just as prettily, making it the higher register contrast to his shifting vocals. In fact, that very style and Click's brand of music so enchanted Carlos Santana that, at a recent club gig in San Fran, the famed axeslinger got up on stage to jam with Danny and the lads for a quarter-hour. Carlos has since followed the band with interest. Life is a Good Place shows why.
Now look to the fact that two ex-Jackson Browne players, Mark Goldenberg & Kevin McCormick, are on this CD as well as musicians backing Ozomatli, Bill Frisell, Emmylou Harris, and the Wallflowers, and you'll understand the respect this gent has earned through songwriting and playing skills rising notably above the common ruck. The CD's indeed a mellifluous affair but carries a vivacity imbuing the predominantly blue atmosphere with hope and sunshine best reflected in liner notes appearing to be taken from the title (but aren't, the verses to that gently blasphemous track are of a more speculative nature): "Life is short. Whatever it is, do it now. And that's all I really know for sure. But it's enough". I couldn't agree more.
Track List:
I Feel Good Today
Blue Skies
How You Feelin' Now
Wait my Turn
Ten Years
Grey to Blue If I was God
Stark
Warhorse
Life is a Good Place
You Don't Know Me
All songs written by Danny Click.
Edited by: David N. Pyles
(dnpyles@acousticmusic.com)