Press Play: Danny Click's 'Baptize Me Over Elvis Presley's Grave' ~ By Paul Liberatore ~ Marin Independent Journal
Danny Click
"Baptize Me Over Elvis Presley's Grave'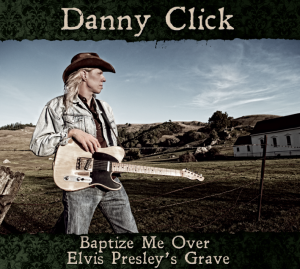 Danny Click handed me a copy of his new single just before he opened the Tam Jam concert in the Mountain Theatre on Mount Tamalpais on July 22, then Marin's phenomenally popular singer-songwriter went out with his band, the Hell Yeahs, and introduced it to his scores of exuberant, Clickhead fans.
"Baptize Me Over Elvis Presley's Grave" is a wonderfully obscure story-song about a pilgrimage to Memphis by a singer-songwriter named Timothy Paruszkiewicz, or Timothy P. It's been recorded at least once before, in 2009, by the Atlanta band Flies on Fire. But Click, who moved to Marin from Austin, Texas, in 2006, now has the definitive version, a rollicking country-rocker featuring his rangy vocals and ringing guitar, Bonnie Hayes on piano and organ, her brother, Kevin Hayes, on drums, bassist Don Bassey and backup singers Tracy Blackman and Victoria George.
The disc itself looks like an old 45 record, and the B-side is a Click-written track, "Blue Skies," from his 2011 album, "Life Is a Good Place," which was on the country, pop and Americana radio charts for more than 10 consecutive months. On "Blue Skies," a spare, heartfelt ballad, Click's mournful vocal is accompanied only by his guitar, harmony singer Ken Gephart and Rebecca Roundman's haunting cello.
This is a top-of-the-line homegrown product, recorded in San Rafael and mixed in Nashville, that's gives Click's growing legion of avid fans something new to listen to and cheer about.
Buy it: "Baptize Me Over Elvis Presley's Grave, Danny Click, DogStar Records, CD Universe, CD, $10.15, iTunes, $0.99.
— Paul Liberatore
Marin Independent Journal
POSTED:   06/28/2013
http://www.marinij.com/ci_23546969/press-play-danny-clicks-baptize-me-over-elvis