DANNY CLICK – Life Is A Good Place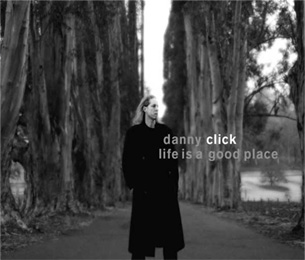 I Feel Good Today / Blue Skies / How You Feelin now / Wait My Turn / Ten Years / Grey To Blue / If I Was God / Stark / Warhorse / Life Is A Good Place / You Don't Know Me / Untitled (Hidden Track)
Producer: Danny Click
DogStar Records
57:46
"This album was made without any computer trickery. What you hear is what was actually played and sang. Ah, the good old days…" Those are the words of "old school" Americana/country/ blues singer Danny Click. Danny Click is a talented songwriter, he sings with great passion, he understands sound/ production and best of all is an astonishing guitar player. This is his fourth album. Opening track, I Feel Good Today introduces us to the singers warm, rich voice. It's a country song about loss.
The singer's girl has left and he wishes he could feel good. Finally he does. It's one of the year's best opening tracks. The theme of loss continues with Blue Skies, a blusey/rock song. The song has a confessional tone, Danny Click sings, "I don't know why you're gone, and I'm still here". It's a heartbreaking song about Click's brother, who taught Danny his first chords. Danny Click proves with this song, and many others here, that he is one of the very best guitar players of recent decades. Carlos Santana is a fan, and has played live with Danny. How You Feelin' Now begins with a gentle acoustic guitar, then ebbs and flows as a tale of "roads not taken" unfolds. Danny Click gets to the very heart of his sorrow, loss and isolation in the incredible Ten Years. As a ten year old boy Danny Click couldn't understand why his "brother went away, and Daddy went away".
This devastating look at loss will move almost anyone who hears it to tears. Even after incredible loss the human spirit survives. Danny Click should be showered with awards for the years most brave, emotional heartfelt song. The more upbeat Grey To Blue is about a 45 year old woman. If you look into her eyes "you can see the damage this world can do". The juxtaposition of sad lyrics with upbeat music works very well. With If I Was God Danny Click becomes more optimistic, he is confident he could sort out the world's problems. However, as he points out, he will never be God. Despite all the loss and sadness that Danny Click has had in his life, he is still an optimist at heart.
This is expressed best in the title track, which starts slowly and builds to some superb guitar playing by the singer. With this track he reaches his redemption, and you sense the song is important to the singer, and becomes important to the listener. What a track! This is a disc which reaches into the mind of the listener, making us think of loss, our own mortality and the way we deal with devastating tragedy, which sadly will hit all of us, if we live long enough. At the end of this heart-wrenching disc is a hidden track. It's a beautiful instrumental piece, to calm the mind after the songs of loss fade… Very few singers have ever been brave enough to deal with loss, in such a personal way. To expose inner thoughts and feelings in a public arena. Danny Click has made a special album, sure it's full of songs about loss, but we also have hope and humanity. Thank you Danny Click. Five stars seems inadequate!
Paul Riley
Comments are closed.