Danny Click and the Hell Yeahs! – Captured Live! • Cool Music & Movies CD Review!
Danny Click and the Hell Yeahs! – Captured Live!
Sometimes I get so disappointed in myself when I stumble upon a really good act that's been playing for years and somehow they've stayed under my radar.  Danny Click and the Hell Yeahs! are just such an group.  Click, from California, by way of Austin and Indiana prior to that, has put together a mighty fine blues / rock / Americana act, emphasis on the blues.
Captured Live! is their debut album, initially funded by a Kickstarter campaign. Recorded in September 2013 at the Throckmorton Theatre in Mill Valley, CA., Captured Live! does a great job of capturing what the Hell Yeah experience is all about. With five originals and seven covers, including tunes from Steve Earle, Eddie Burns, Tom Petty, Randy Meeks and Delbert McClinton, every song is solid.
The band has great chemistry, no doubt from playing hundreds of shows together. Click has a strong, tenor voice, to go with some sizzling guitar work. Kevin Hayes, who played for a bit with Robert Cray, lays down a solid rhythm on drums.
Mike Emerson has some sweet solos on organ and keys especially on "No Good Reason". Add in vocals by Lynn Asher and Tracy Blackman and a special guest vocal by Texas blues legendary vocalist Angela Strehli and you've got a blues band that know how to cook.
Standout tracks include: "Wait My Turn", "Can't Let Go" by Randy Meeks, "No Good Reason", "Livin' It Up" by Delbert McClinton, and "Stranger Blues" by Elmore James (featuring Angela Strehli).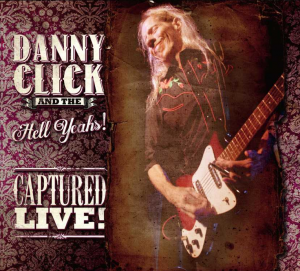 http://www.coolmusicandmovies.com/music/danny-click-and-the-hell-yeahs-captured-live-cd-review/